(Image credit: drawing by artist/architect Bernhardt Leitner)
SPECIAL SESSION 8: "Music, Sound and Space" – Cobi van Tonder & Giulia Vismara
This special session focus on the use of acoustic parameters in creative work, including the perception of spatial qualities of sound in space, auralisation as musical material, convolution reverb, 3D impulse responses, field recordings, soundscape, conceptual art based on sound and space, resonance, infrasound,  meditation via sound, technological environments, fluid architectures, and immersive VR/XR/AR art projects.
We invite artists who work with sound and space as media in a wide array of contexts where spatial audio or immersive audio technologies enable artistic work. Practitioners in sound art, composition, sound studies, music production, sound design, VR, AR, XR, theatre, architecture, computer-generated art, and philosophy may present their research on 'sound and space' as artistic material. Especially welcome are hybrid projects that support multidisciplinary approaches.
We welcome papers about (but not limited to):
Sound as invisible architecture
Spatiotemporal perspectives in 3D sound
Sonic environments, architecture, and technological spaces
Auralisation
Electroacoustic composition
AI and listening
Environmental sound ecology
Field recordings, soundscape
Meditation through sound, (deep listening), sound walks
Conceptual art based on sound and space
Vibration, resonance, infrasound
Algorithms and the creation of the spatial experience
History of spatial audio in sound art practice
Wellness
Keywords:  Deep Listening, Spatial Audio, Reverb, Sound and Space, Landscape, Soundscape, Soundwalks, Soundwalk, Binaural, Multichannel, Diffusion,  Ambisonics, Wave Field Synthesis, VR, AR, XR, sound and space, 3D models, Twins, architecture, virtual architecture, abstract space, imaginary space, imaginary landscape, AI-generated, AI, sounding, Sound propagation, Echolocation, Infrasound, HRTF, Human Ears, Listening, Urban Space, Environmental, Sonic Ecology, Film, Theatre, Dance, Sound Design, Instrument Design, Human Computer Interaction, Internet Art, Webaudio, Browser Art, Interface Design, DSP, Robotics, Interactive Art, Simulation, Digital Art, Electroacoustic Music, Computer Music.
Co-chairs: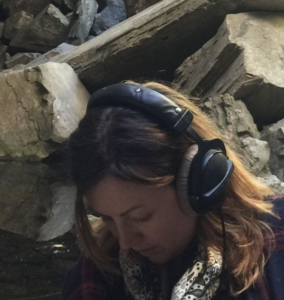 Cobi van Tonder is a practice-led researcher and interdisciplinary artist. She composes and performs microtonal drone music, synthesized music, and sound pieces based on field recordings, infrasound, and virtual acoustics. Her current project, ACOUSTIC ATLAS – Cultivating the Capacity to Listen (https://www.acousticatlas.de/), developed during a Marie Skłodowska-Curie Fellowship, enables remote listening in the browser through virtual acoustic technology. Cobi completed a Ph.D. in Music Composition at Trinity College, Dublin, an MFA Art Practice degree at Stanford, USA; and a BHons in Music in History and Society (Musicology) at WITS, Johannesburg, South Africa. Cobi is currently a research fellow at the Department of Architecture, Alma Mater Studiorum, University of Bologna.
Artist website: https://www.otoplasma.com/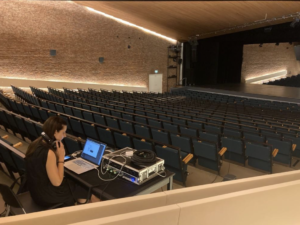 Giulia Vismara, is a researcher and an electroacoustic composer. Currently she is teaching History of Electroacoustic Music at the Conservatory in Castelfranco, Italy. She is a postdoctoral researcher at Antwerp's Royal Conservatory and Academy of Fine Arts, a co-founder of the SSH! Study Center at Iuav, University of Venice, as well as a member of RISME digitali, a research group committed to the study of the use of electronic and digital technologies musical and sound creation.
Space is the key to her work, the matrix that shapes the music she composes. Her works range from electroacoustic music to sound installation, music for theatre, performance and video art. www.giuliavismara.com